What are the Differences Between the Epson Colorworks Label Printers?
Researching a new label printer can be time consuming and overwhelming. That's what the experts here at Arrow Systems are for! We've created a comprehensive list of all of the various Epson Colorworks label printers for you. This list of label printers will discuss the key differences between each model to help you in your search for the right printer for your business.
The Epson C3500 label printer is an entry level system designed for customers who need digital label printing capabilities at a low cost. This printer is specifically designed for small batch label printing and is ideal for fast on demand applications where labels are needed right away. Its easy to use software and rugged design make it a work horse for situations like trade shows or hospitals, where large quantities of different badges or labels will need to be printed one after another. This printer is a low investment cost to have the ability to print your own labels. The major drawbacks of the system is that the resolution is not the best at only 360 x 360dpi and it can only take 4.1" rolls. It is best suited to applications where high coverage or impeccable quality are not necessarily needed.
The Epson C831 GHS label printer is a bit different from the other models we will be discussing in this article. It is designed for a very specific type of label called a BS-5609 compliant label. This classification of label is used for labeling chemicals or other special goods when they are shipped. It utilizes a  8-pin tractor feeder system to ensure perfect tolerance, and is ideal of large drum labels since it can print up to 8". This is by far the printer with the most accuracy other than thermal transfer printers like the Gerber Edge. The Epson c831 is the ideal solution for any chemical companies who are looking to bring their label printing inhouse, especially if they are looking for a printer with a tractor feeder for unparalleled accuracy of an 8-pin feeding system!
The Epson C6500 is the latest series of label printer from Epson. They have specially designed this printer to take the place of black and white thermal ribbon printers. It uses a specially designed pigment ink to create long lasting images in 1200 x 1200 dpi. It also has the ability to print color labels with variable data. This printer combines all of the benefits of the smaller Epson printers while giving a high quality 1200 dpi resolution and 8" print width!
The A model of the C6500 is for Auto cutter. This printer has a built in guillotine cutting mechanism that will automatically cut the roll of labels after it is done printing. This saves customers time and money on their labels!
The C6500P is basically the same printer as the A with one small difference. It can print peel and present stickers. This feature can help with the manual application of stickers or labels. The Epson C6500P is designed to be put inline with label applicators for a seamless approach to auto application. It uses the same pigment ink cartridges as the C6500A so you will get a great looking label with the latest pigment ink technology!
The Epson C7500 has been the workhorse of many businesses label departments for years. It is a testament to the benefits of a rugged design that there are still so many customers using these printers for their inhouse label printing needs. It prints in 1200 x 600 dpi and allows customers to print up to 4.25" labels roll to roll. It's compact design and extended site warranty are some of the main benefits to this printer.
The Epson C7500G is very similar to the standard C7500. The main difference between the two is that the G model is able to print with a glossy ink. This can be especially appealing to customers who want their product label to pop a little bit more than is possible with the standard version.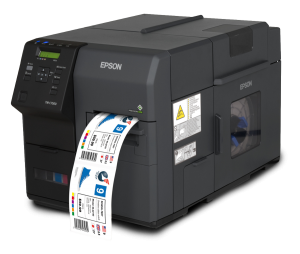 Perfect for any type of consumer based labels, such as food labels, cannabis labels, e-juice labels, and much more! Print on pre-cut roll labels, or print and cut using a finishing system with ease!
Built for reliable, high-quality performance, the ColorWorks C7500GE is ideal for demanding, high-volume environments that require customized glossy labels at a low cost. Its rugged design requires minimal maintenance and offers a low overall cost of ownership. It comes with the glossy ink similar to the C7500G, but also includes Wasatch Soft RIP for variable data printing and color matching. In addition, the GE model also comes with an Extended Warranty for the printer in the event that anything does ever happen.
While the Epson Colorworks series of label printers is great for getting started, there are a number of larger and more industrial label printers available. Arrow Systems, Inc. works with the best manufacturers around the world to find the best label printing technology on the market. Whether you are printing 100 label per week or 1 million, we have a solution for you. Contact our knowledgeable sales staff today for a
FREE Consultation
on your businesses label needs and we'll help find the perfect solution for your packaging needs! We also provide a wide range of digital finishing equipment that can be paired with any of our industrial label printers, or any other printing equipment on the market. We are constantly striving to find the best digital solutions to help your company succeed, and with our commitment to customers service and back end support on all of the equipment we sell you can rest assured that you are working with the best in the business!
Contact With Our Team Now