Flexible Solutions for Your Flexible Packaging
We offer a wide range of equipment for producing flexible packaging for a variety of industries including food packaging, pharmaceutical packaging, coffee bags, cannabis edibles, and more!
We will help create a turn-key solution for your company's flexible packaging needs based on the volume of mylar bags you need to produce and your budget for the project.
ArrowJet Aqua 330R Industrial Inkjet Printer
The ArrowJet Aqua 330R is specifically designed to give manufacturers the versatility to offer short runs to their customers with little to no lead times.
The ArrowJet Aqua 330R ink is designed for food packaging and is formulated using components listed on the Swiss Ordinance (RS 817.023.21, entered into force December 2019) and is compliant with the Nestle Guidance Note on Packaging Inks dated October 2018.
With speeds up to 150'/min, it allows for high throughput of custom mylar bags and other flexible packaging. Its ultra-high-resolution of 1600 x 1600 dpi gives customers the ability to print beautiful full coverage graphics for their flexible packaging.
Scratch Proof Labels with Inline Varnish
Scratch Proof High-Quality Labels with Inline Priming and Varnish
Flexible Packaging Materials
We offer a wide range of flexible packaging substrates from our partner company, Sihl Group. Sihl has multiple formulations for different types of packaging, whether it is candy or cannabis, we can help you find the right materials for your application.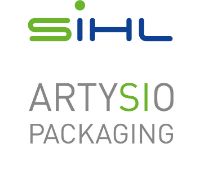 Turn-Key Mylar Bag Making Equipment
In addition to the printers and materials, we will help you locate the right VFFS or HFFS equipment to fill and seal your packaging. Whether it's a solution we offer off the shelf or a custom build, we have the capability to help drive your company's growth through custom flexible packaging solutions.