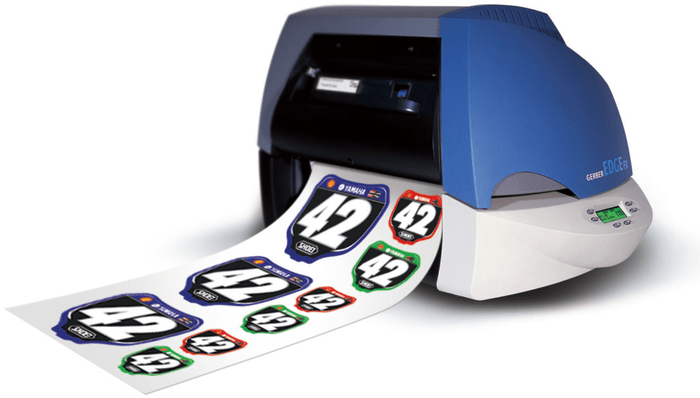 15'' Thermal Transfer Printer
The GERBER EDGE Production system is a matched system that includes:
The GERBER EDGE FX thermal transfer printer, GERBER OMEGA Software, Gerber 15″ sprocketed plotters, more than 30 EDGE READY materials and substrates, over 75 GerberColor Foils, and Gerber Service and Support.
Overview
Features
Brochure
Overview
Thermal transfer printer; durable graphics, flexible applications
The GERBER EDGE production system is a matched system that includes the GERBER EDGE FX thermal transfer printer, Gerber OMEGA™ software, Gerber 15″ sprocket plotters, more than 30 EDGE READY™ materials and substrates, more than 75 GerberColor™ foils, and Gerber service and support.
Features & Benefits
Resolution – 300, 600 or 1200 dpi on material axis (1200 dpi requires OMEGA 4.0 or later and EDGE FX firmware update). 300 dpi on head axis.
True spot color printing – GerberColor Foils – Save time and generate better quality graphics with dedicated spot colors.
GerberColor Spectratone Color Matching – Lets you create over 3700 pure, vibrant colors.
Advanced Foil System – Smart GerberGauge™ RFID technology tracks exact foil usage.
Process and specialty colors – In addition to spot colors, Gerber process, metal and fluorescent foils allow you to create full color images.
Durable output – 3 to 5 years outdoors without lamination.
EDGE READY™ materials – Fully compatible with Gerber OMEGA design software and a wide range of permanent, removable, semi-rigid substrates.
Matched Technology System™is fully compatible with Gerber OMEGA™ design and output software and 15″ EDGE-compatible Gerber sprocket-feed contour cutters, adding value to output and saving time.
Patented punch pattern – Provides superior accuracy which reduces material shifting, cut time and waste due to cut errors. Enables long unattended runs of up to 50 yards without loss of accuracy.
Easy material loading – Load material onto the sprocket wheels for quick, accurate and unattended material feed.
Easy maintenance – Unlike solvent printers, no "wake up" or "put to bed" routines are required. EDGE resin-based foils create no mess and are ready to go immediately.
Small footprint – The EDGE FX print-to-cut system requires limited shop space allowing you to get started quickly and inexpensively.
Intuitive user interface – Easy for your staff to learn and operate.
Use with over 30 Materials – Using heat and pressure to transfer resin-based pigments, the EDGE FX thermal transfer printer can be used on over 30 different substrates including reflective vinyl, clear films, label stock, polyester and many more.
Durable Colors without Lamination – Print with CMYK and over 70 spot colors while GerberColor Spectratone™ lets you create over 3,000 colors by printing spot color foil on top of on another. These are outdoor durable without the use of laminates for up to 5 years!
Cuts Virtually Any Shape – With an enVision™ or GS Series plotter, you are able to contour cut any shape around any printed graphic with no set up and no need for dies.
Features
Brochure